Visitation
Date: Monday July 19, 2021
Time: 4:00 pm - 7:00 pm
Location: River Park Chapel at Macken Funeral Home [ view map ]
Second Visitation
Date: Tuesday July 20, 2021
Time: 10:00 am - 11:00 am
Location: St. Peter and Paul Catholic Church [ view map ]
Funeral Service
Date: Tuesday July 20, 2021
Time: 11:00 am
Location: St. Peter and Paul Catholic Church [ view map ]
Burial
Location: St. Peter and Paul Catholic Cemetery [ view map ]
Please Note:
We will be celebrating the lives of both Germaine and Theodore.  Theodore passed away on April 24, 2021.  Please click on this link to view Theodore's obituary.

A reception will be held, after the burial, at Uncle John's Bar and Grill, from 2:00pm - 5:00 pm.  Please click here for the directions.

To honor Ted, who wore his cargo shorts whether it was to church or -30 degrees outside and Germaine, who made a collar-up golf polo look "classy", the family invites you to wear your best casual lake apparel to the visitation, funeral, and reception. Red lipstick and blue eye shadow are optional.
Printer Friendly Version
Share on Facebook
Date of Birth:
Thursday, July 12, 1928
Date of Death:
Sunday, July 11, 2021
Age:
92 years old
Germaine F. Hein
Germaine F. Hein passed away peacefully at Homestead of Rochester surrounded by her family on July 11, 2021, at the age of 92 (one day short of her 93rd birthday). She was recently preceded in death (4/24/21) by husband of 71 years, her "Big Guy", Ted. She is survived by her children, Mike (Chris) of Merillan, WI, Marilyn (Steve) Peltier of Minneapolis, MN and Pete (Darcy) of Zumbro Falls, MN. She would glow at any family gathering when she would look at her 7 grandchildren, and 9 great grandchildren and their spouses and ask innocently, "Are these all mine?"
Germaine was born in Marshfield, Wisconsin to Arnold and Margaret (Doll) Dohm. She was preceded in death by her sister, Lois Butler, and brothers, LaVern and Bud Dohm. She married the love of her life, Ted Hein, after WWII, on Aug 10, 1949.
Their early years of marriage took them to Menomonee, WI, Plymouth, WI, several towns in the NY Hudson Valley, Madison, WI and finally to Rochester, MN as they followed career opportunities with IBM. Through these moves, Germaine tirelessly assured that her young family adjusted and settled happily into each new home. Her priorities were always husband, family, home and of course, faith.
In Rochester, Germaine, began her own career path starting as a bookkeeper with Hillers Carpets and then progressing through the Rochester Public School system starting as a secretary at John Marshall, where she kept a close eye on her high school aged children and progressing ultimately to the purchasing department for the entire school system where she retired in 1987.
Germaine attacked retirement like she did every other aspect in life with 150% effort. She enrolled in Dale Carnegie Public Speaking training where she progressed to becoming an instructor. She applied these skills to becoming a lecture at their church as well as establishing herself as the go to for any needed prayer for any occasion whether a family gathering, wedding or golf tournament. She affectionately became known as "The Prayer Lady" by many who knew she had or could create a reflection at any moment upon request.
Germaine also revealed her fierce competitive side in retirement as she decided to take up golf at 60 years of age and quickly proceeded to compete regularly in the top flights in her golf leagues in their retirement community of Deer Creek in Davenport Florida. To her dying breaths, she would remind everyone of her 3 Hole-in-Ones, (as compared to Ted's 2).
Germaine enjoyed retirement life between snow-birding in Florida and summer lake life on Lake Zumbro, MN where she loved boating, gardening (especially geraniums), birds and most of all, time with her family.
Her strong faith was evident throughout her life with active participation in Daughters of Isabella Rosary Society, CCD Family Life Co-Chair, RCIA, religious education instructor, lecturing and Eucharistic minister at their beloved, St. Peter and Paul Catholic church in Mazeppa. She also volunteered at "Give the Kids The World in FL and loved her Ladies of the Lake gatherings.
Germaine's final years were spent in the wonderful Homestead of Rochester senior community where she loved and was loved dearly by all who cared for her. The family wishes to thank the staff for their extraordinary kindness they have shown to her and our family as well as the tender care provided by Mayo Palliative Care and Seasons Hospice.
Join the family in a memorial Celebration of Ted and Germaine's Life together. Visitation will be Monday, July 19, 2021 4-7 pm at Macken Funeral Home, 1105 12th St. SE, Rochester, MN 55904.  A joint funeral service will be held at 11:00 am on July 20, 2021 at St. Peter and Paul Catholic Church in Mazeppa, MN with a one hour visitation at the church prior to the service.  Interment will follow the service with a reception at Uncle John's Bar and Grill 2-5 pm, 12510 Oak Lodge Lane NE, Rochester, MN 55906
If you would like to honor their memory, please consider donations to St. Peter and Paul Catholic church of Mazeppa, MN or Give The Kids The World (gktw.org).
Of Note: To honor Ted, who wore his cargo shorts whether it was to church or -30 degrees outside and Germaine, who made a collar-up golf polo look "classy", the family invites you to wear your best casual lake apparel to the visitation, funeral, and reception. Red lipstick and blue eye shadow are optional.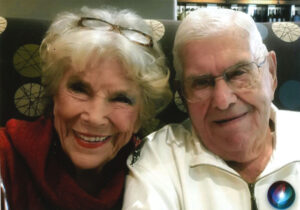 Condolences
Printer Friendly Version
The family of Germaine F. Hein has received the following condolences.
My deepest sympathy to the Hein family. I worked with Germain many years ago at the MSB building for Rochester Public Schools. I met Ted a few times when he stopped by the office and once when they had a party for Germain's co-workers out at their home on the lake. Great people and great memories. Keep the wonderful memories close for the sad days ahead. Our thoughts and prayers are with in this time of sadness.
Great memories of the fun we had at Mockingbird ridge with Ted and Germaine. We were family sharing a great time in our lives.... Living life to the fullest.
Rest in peace my good friends.
Condolences to the family.
Our deepest condolences go out to the Hein's Family. We enjoyed Germaine and Ted as golfing buddies as well as social friends. They were a lovely couple. May they Rest In Peace
My dear Germaine, I am not surprised you left this world shortly after the love of your life passed on . The love you had for your family was so great but the love for Ted ... well you read about that in books . Thank you Germaine for always making me feel special . To your kids , our deepest condolences go out to you. Through your sadness let the Joy of your parents being together again help with your healing .. Loved them both xxx Dick and Francie xxx
So sorry to hear another neighbor has passed away. So many from Mockingbird this year. Children to lose a Mom and Dad so close together. They just needed each other. Prayers and condolences to family.
Years ago I was able to get to know your parents through my real estate career. I am so sad to read of their passing. But I also know that their kindness, gentleness, and patience will always be remembered by me. And I also know that was passed on to you as a family.
God Bless You All,
Frank Siebenaler